Reproducible Research @ AGILE
This website is home of workshops and an AGILE INITIATIVE on the topic of Reproducible Research in connection with the Association of Geographic Information Laboratories in Europe's (AGILE) annual conference series.
Guidelines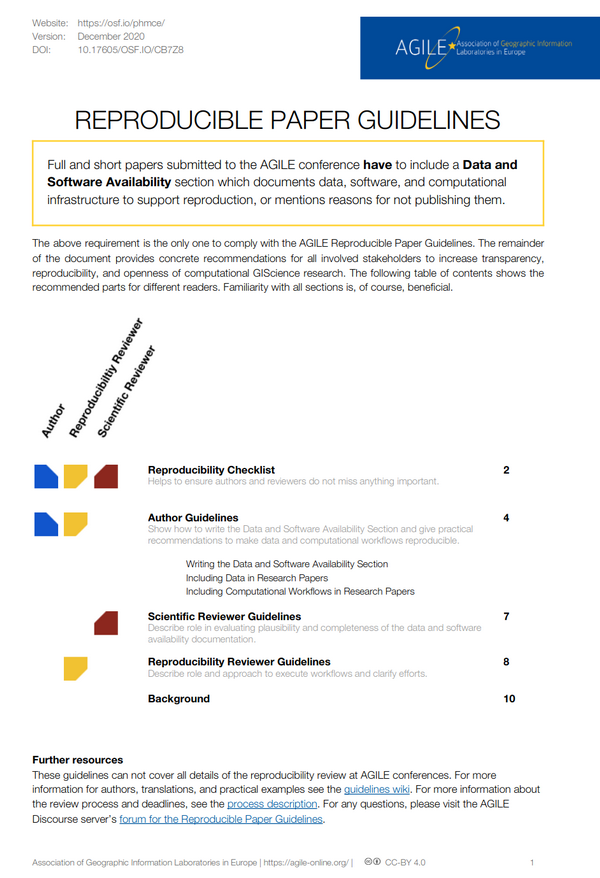 Reproducible Publications at AGILE Conferences – Guidelines for Authors, Scientific Reviewers, and Reproducibility Reviewers 🇺🇸🇬🇧🇳🇿🇦🇺 (December 2020)
Reproducible Publications at AGILE Conferences – Spanish translation 🇪🇸🇲🇽🇦🇷🇨🇴🇪🇨🇧🇴🇨🇷🇨🇺🇩🇴🇸🇻🇬🇶🇬🇹🇭🇳🇳🇮🇵🇦🇵🇾🇵🇪🇵🇷🇺🇾🇻🇪 (July 2019)
The main OSF project with all documentation about the initiative and creation of the guidelines: https://osf.io/phmce/
About
Reproducibility and replicability of research gains more attention each year across many domains, some of which even struggle with a "reproducibility crisis". However, at AGILE conferences, the topic is underrepresented. Recent research found that none of the last years nominees for best papers (both short & full papers) provided sufficient information (i.e. instructions, data, and code) to be reproduced independently by a third party.
Learn more about the state of reproducibility at AGILE and what can be done about it in the peer-reviewed articles "Reproducible research and GIScience: an evaluation using AGILE conference papers" and Reproducible Research and GIScience: An Evaluation Using GIScience Conference Papers. Read more about past, ongoing, and future activities & strategy in the preprint "Reproducible Research is like riding a bike" presented at the 5th Open Source Geospatial Research and Education Symposium (OGRS 2018).
The workshops are organised by a group of Open Science and Reproducible Research enthusiasts. The events introduce interested scientists and developers to the concepts of reproducible research, raise awareness of challenges around computational reproducibility in science within the AGILE community, and give hands-on guidance on how to increase the degree of reproducibility for the participant's own work.
Team
Are you interested in improving reproducibility of research? Join the team!
Active team members
Former team members

Except where otherwise noted content is licensed under a Creative Commons Attribution 4.0 International License.
Privacy policy / Disclaimer
This site (https://reproducible-agile.github.io) does
not
collect or store any personal data nor uses it cookies. Embedded Twitter widgets on this site
do not collect
information used for personalization. Although we check the content carefully, we cannot accept responsibility for the content of external links. The linked sites' carriers are responsible for their sites' content.